About OVKA
The Ohio Valley Karting Association (OVKA) has been in existence for over 50 years. It is one of the oldest and largest karting clubs in America. We have members that range from doctors to engineers, laborers to executives, business owners to truck drivers. Each is welcome and cherished as a member.
The Ohio Valley Karting Association offers a place for everyone! OVKA has over 200 karting members from Ohio, Kentucky and Indiana. The OVKA promotes up to 20 races a year including national events in conjunction with World Karting Association (WKA). Our greatest asset is the quality of our members. OVKA members compete for trophies or plaques along with points that will go toward an end of season championship. At the year-end banquet, merchandise awards go to the racers.
Safety is the most important issue for the OVKA. Each kart will be required to meet a pre-race safety inspection to insure all critical components are attached, cotter keyed, or safety wired. Each new driver will be required to start at the back of the grid for at least 3 races. Racing is a very competitive environment and our organization requires that each new driver gain seat time in racing conditions before being placed at the middle or front of the starting grid. Rough driving or bumping is not tolerated in OVKA. The rules are enforced by the Race Director, Head Flagman, and corner Flagmen for all racing events. The driver's safety is the prime concern at all OVKA events.
Costs are another concern to all kart racers. OVKA classes and rules are designed to keep the costs down and the racing close. If starting out as a new karter, used equipment is usually a good way go. It can save you money and sometimes come with a lot of the extra equipment required to race.
Races are held at three local tracks within a day trip for anyone within the Tri-State region. Each track offers a unique challenge to the drivers. The home track of OVKA is G&J Kartway located in Camden, Ohio. This track is recognized as a WKA MASTER TRACK for its challenge to the drivers and its outstanding facilities. G&J Kartway has been hosting national and regional WKA events for some time. Other tracks that will host OVKA races at are Circleville Raceway Park in Circleville, Ohio and New Castle Motorsports Park in New Castle, Indiana.
In 1997, OVKA created a website to better get the karting message out to the general public. This website focuses on racing information for the Cincinnati area and includes things like results, sponsors, schedules, class structure, etc. It has grown over the years to include points, photos, special events and more. Please check it out at:www.ovka.com.
To find out more about karting, come to an OVKA event, or call an OVKA board member located close to your home. We would be happy to help you with any questions on karting. Please click on the contacts link at www.ovka.com. Please feel free to contact any of the Officers or Board of Directors.
OVKA Tracks
G&J Kartway
Located among the cornfields and pastures of Southwestern Ohio lies a WKA Master Track known as G & J Kartway. The track entrance is marked by the silos used by Barnets Inc. which is owned and operated by track owner Gary Gregg. G & J Kartway is the Home of OVKA.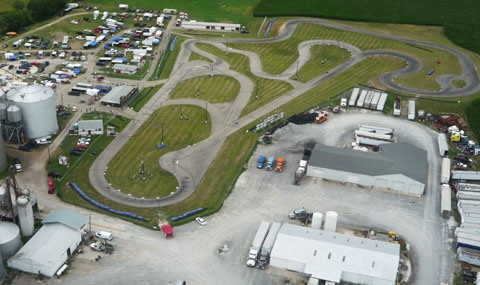 Click Here
to visit the Official Track Website. Note - The G & J Kartway schedule may differ than the OVKA Schedule as G&J Kartway host events for other associations from time to time.
Circleville Raceway Park
Circleville Raceway Park is a 7/10 mile asphalt road course containing 3 right, 7 lefts and spans 20 feet wide. It's located about 30 minutes south of Columbus, Ohio and 2 miles north of Circleville on the west side of U.S. Route 23.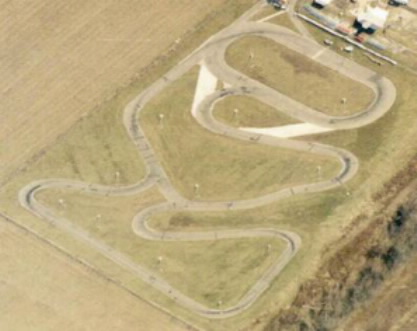 Click Here
to visit the Official Track Website. Note - Circle Raceway Park holds many events thoughout the year. Feel free to contact them regarding track availability.
New Castle Motorsports Park
New Castle Motorsports Park is a state of the art karting facility. The 1 mile road course features a 950 foot back straight, multiple layouts, AMB Scoring System, 28' wide track width, paved pit roads and grid area, over 60 Rental Garages, 2000 square foot onsite kart parts shop, trackside restaurant, The Racer's Grill and the newly opened second floor Champions Club observation deck.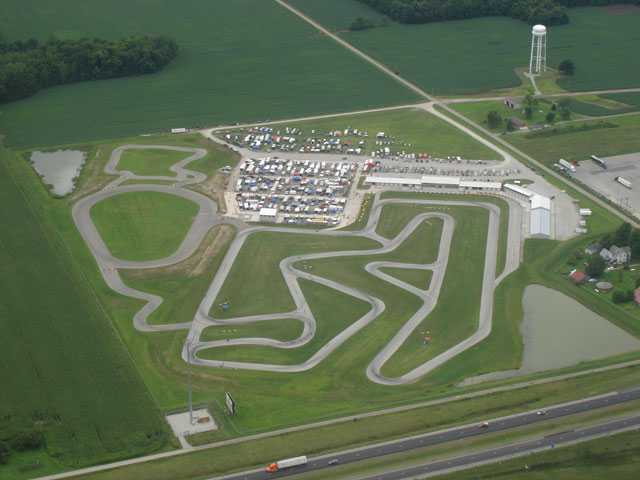 Click Here
to visit the Official Track Website. Note - New Castle Motorsports Park holds many events thoughout the year. Feel free to contact them regarding track availability.
Upcoming OVKA Events
OVKA Race #5
Sunday, June 4th
G&J Kartway Camden, Ohio
Configuration 2A

OVKA Membership Board Meeting
Tuesday, June 6th - 7:00pm
Hampton Inn
2880 Towne Blvd
Middletown, Ohio 45044

OVKA Race #6
Saturday NIGHT, June 10th
G&J Kartway Camden, Ohio
Configuration C

OVKA Race #7
Saturday NIGHT, June 17th
G&J Kartway Camden, Ohio
Configuration 1B

See Series Information/Schedule for event details.


---
Upcoming Events @ G&J Kartway
List of Upcoming Non-OVKA Events @ G&J Kartway. Call for Track Availability.

Briggs & Stratton 206 Cup
June 23-25


---
Other Upcoming Events
WKA Manufacturers Cup
Round 2 - May 19-21
Wampum, Pennsylvania


---