2017 Charity Race Information
October 1, 2017 - The OVKA Points season has coming to an end, but we still have one important event this season. The annual charity race is this Saturday, October 7, 2017. We ask everyone to bring a minumum of two non-perishable items that we will collect and bring to a local charity.

Also note that the Charity race brings a different race format where we will Qualify and have a 25-lap final.

Hope to see everyone on Saturday.


---
2017 Points After Race 14
October 1, 2017 - Points After Race 14 results have been posted on the Points page.

Points After Race 14 (Updated 10/2/17).

Any questions, comments or issues can be addressed to Lynda Coombs at lcoombs23@aol.com.


---
October Board Meeting Agenda
September 28, 2017 - Click Here to View the upcoming board meeting agenda. (Updated 10/1/17)


---
September Board Meeting Minutes
September 27, 2017 - The September BOD minutes are now available. Click Here To View

View the Board Meeting Minutes page for more information.


---
Track Closed Sunday October 1
September 25, 2017 - The track will be closed on Sunday October 1. The OVKA Board will be preforming the 2nd tire test on multiple brands.

If you have any questions feel free to contact Derick Hughes, Reid Smith or any of the board members.


---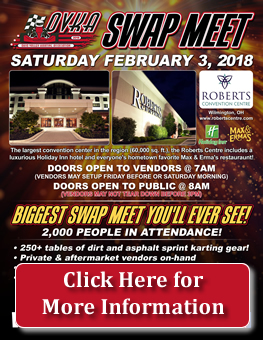 ---
Upcoming OVKA Events
OVKA Membership Board MeetingTuesday
, November 7th - 7:00pm
Hampton Inn
2880 Towne Blvd
Middletown, Ohio 45044
2018 OVKA Swap MeetSaturday
, February 3rd
Click Here For Information
See Series Information/Schedule for event details.
---
Upcoming Events @ G&J Kartway
List of Upcoming Non-OVKA Events @ G&J Kartway. Call for Track Availability.
No Events Scheduled
---
Other Upcoming Events
WKA Manufacturers Cup
Round 1 - December 27-30
Daytona, FL
---