2017 OVKA Schedule
January 15, 2017 - The 2017 OVKA Schedule has been posted online.

Download a Printable 2017 OVKA Schedule


---
2017 OVKA Rulebook
January 15, 2017 - The 2017 OVKA Rulebook has been posted online.

Click Here to view the rulebook.


---
Officer Election
January 3, 2017 - Officer Elections for 2017 will take place at the general membership meeting prior to the banquet at 2pm on Jan. 14. The nominees are as follows:

PRESIDENT
Don Boles
Pat Slattery

VICE PRESIDENT
Ken Kuethe

SECRETARY
Lynda Coombs

TREASURER
Jason Gregg


---
January Board Meeting Agenda
December 31, 2016 - Click Here to View the upcoming board meeting agenda.


---
Banquet Menu
December 31, 2016 - Assorted dinner rolls, salad to include both field greens and iceberg lettuce with tomatoes, cucumbers and croutons on the side; ranch, Italian and French dressings, herb seared chicken with lemon cream sauce, roast beef with horseradish crust, baked mostaccioli, chicken nuggets, rosemary and cracked pepper roasted red potatoes, assorted desserts, and beverages to include coffee, tea and soda.


---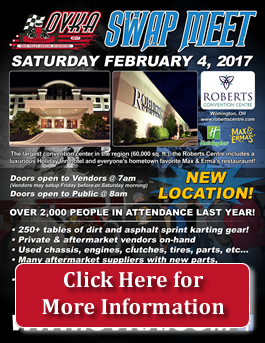 ---
Upcoming OVKA Events
2017 OVKA Swap MeetSaturday
, February 4th
Click Here For Information
* New Location *
OVKA Membership Board MeetingTuesday
, February 7th - 7:00pm
Hampton Inn
2880 Towne Blvd
Middletown, Ohio 45044
Spring Clean Up DaySaturday
, March 25th
G&J Kartway Camden, Ohio
OVKA Karting 101 – Driver's School – OrientationSaturday
, April 1st
G&J Kartway Camden, Ohio
OVKA Race #1Sunday
, April 2nd
G&J Kartway Camden, Ohio
Configuration 1B
See Series Information/Schedule for event details.
---
Other Upcoming Events
Indy Circle Track Show
January 28
Indiana State Fairgrounds
Indianapolis, Indiana
Great Lakes Racing Expo
February 18
Full Throttle Indoor Karting
Cincinnati, Ohio
WKA Manufacturers Cup
Round 2 - May 19-21
Wampum, Pennsylvania
---